Gilberda

Kanji/Kana
ギルベルダ
Rōmaji
Giruberuda
Voiced by
Alias
Gil
Characteristics
Age
Gender
Female
Height
Weight
Eye Color
Green
Hair Color
Blonde
Blood Type
Information
Family
Status
Deceased
Faction
Oarburgh
Teigu
Shingu
Abilities
Superhuman Strength
User
Media Debut
Manga
Chapter 28 (zero)
Anime
Image Gallery

Gilberda (ギルベルダ, Giruberuda) was a member of Oarburgh clan.
Appearance
Gilberda had green eyes and long blonde hair. She wore a maid's outfit.
Personality
She had an aggressive and belligerent personality. She was also a perverted individual. She liked more women than men.
History
Her parents sold her because they were scared of her superhuman abilities. After that she joined Oarburgh clan. As a member of Oarburgh she swore Merraid absolute loyalty.
After Taeko and Babara death, Gilbeda (with other members of Oarburgh clan) arrived to eliminate Elite Seven. Before ambush on Elite Seven, Gilberda with Chelsea spy on Merraid and random girl. Merraid found out and she involved Gill, Chelsea and Cassandra into her orgy. Gilberda was happy about it.
On the beginning first battle with Elite Seven Gilberda and Cassandra were fighting with Poney and Tsukushi, girls from Empire fled.
After some time Merraid and Gilberda found Empire spies. While Merraid took girl, she ordered Gill to deal with the man. After found out information about place where Empire spies gather they came there and they killed spy who was there.
Power & Abilities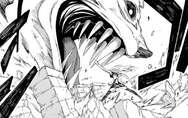 She is specialized in close combat and has superhuman strength.
References
Ad blocker interference detected!
Wikia is a free-to-use site that makes money from advertising. We have a modified experience for viewers using ad blockers

Wikia is not accessible if you've made further modifications. Remove the custom ad blocker rule(s) and the page will load as expected.